Dentures (Full and Partial)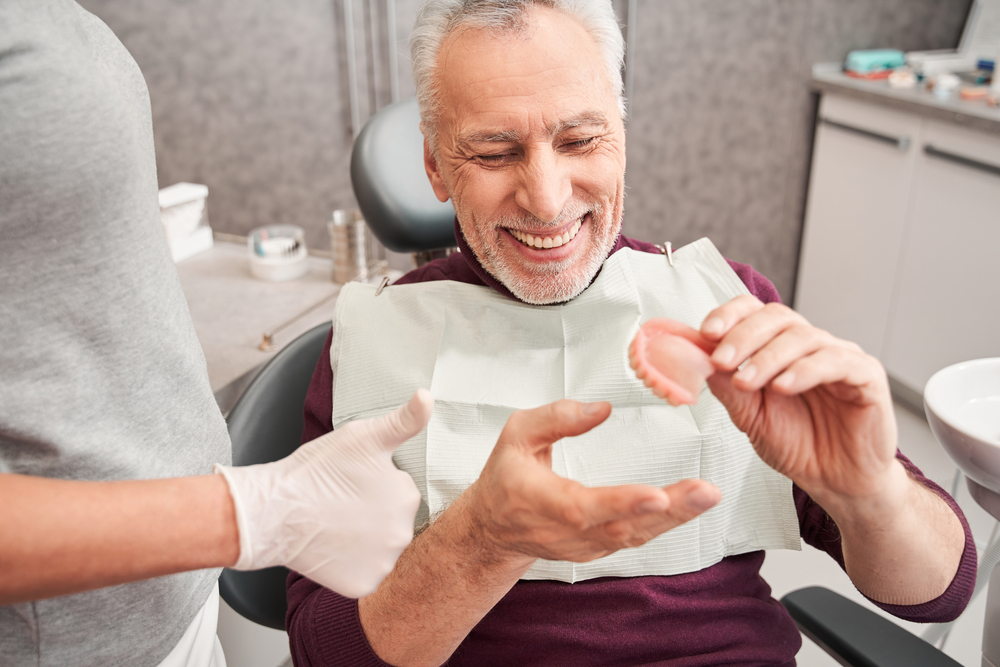 If you are missing multiple teeth, there are replacement options available. Many people imagine dentures as they used to be shown in old movies and TV shows.
Fortunately, dentures have come a long way since that time. They look natural, are more durable, and are more comfortable than in the past. The dental team at South Dayton Smiles can help you find the perfect set of dentures to complete your smile.
What Are the Differences Between Full and Partial Dentures?
There are two common types of dentures. The first is called a full set of dentures. As the name suggests, they are designed to replace a full set of teeth on the upper or lower portion of the jaw. Dentures are typically made using high-quality plastic. Then, they are held in place by the natural suction effect between the dentures and the gums. If you believe your dentures are not staying in place, we can discuss other options with you.
If you still have multiple teeth present on your upper or lower jaw, we may recommend partial dentures instead. Partial dentures are usually held in place using brackets and wires instead of suction or glue. Dental bridges can only replace one or two teeth at a time, but partial dentures can replace many more than that.
Can You Take Out Dentures?
Yes, the vast majority of partial and full dentures are removable. This means that they are easy to wear, simple to take care of, and straightforward to remove when they are no longer needed.
If you are interested in fixed dentures, we can talk with you about options that are supported using implants. Keep in mind that once implant-supported dentures are placed, they cannot be removed again. At South Dayton Smiles, we will review the benefits and drawbacks of each option, allowing you to make the best decision for your oral health.
How Do I Take Care of Dentures?
As long as you take care of your dentures, they should last for many years. Dentures are similar to your natural teeth and need daily care.
If you do not take care of your dentures, they could develop significant stains. Then, you may transmit plaque and bacteria into your mouth when you put your dentures in place. This can lead to significant oral health disease.
You need to brush your dentures every day with a soft-bristle toothbrush. Make sure you use a cleaning product that has been specifically designed for dentures.
You should also rinse your dentures after every meal. Make sure you keep them moist when they are not in your mouth. If you let your dentures dry out, they could start to crack.
Denture Services in Miamisburg
If you are curious about whether dentures are right for you, it would be our pleasure to assist you. Reach out to our team today to schedule an appointment at (937) 433-5133. We can help you choose the right set of dentures to meet your needs.
Request an Appointment Today
At South Dayton Smiles, our dentists are always happy to serve you in south Dayton.
Testimonials
What Our Clients​​ Say about Us
" Dr Botti has always been pleasant to work with, explaining details of the procedure as I had a crown replaced. "
– Mike G
" I LOVE Dr Botti and the staff at South Dayton Smiles. Michelle is my hygienist and I can't wait for my appointments to have my teeth cleaned. "
– Debby M
" Everyone knows my name, knows my family, very personal touch. Everyone is great with my children. They treat us all like family. "
– Steve M