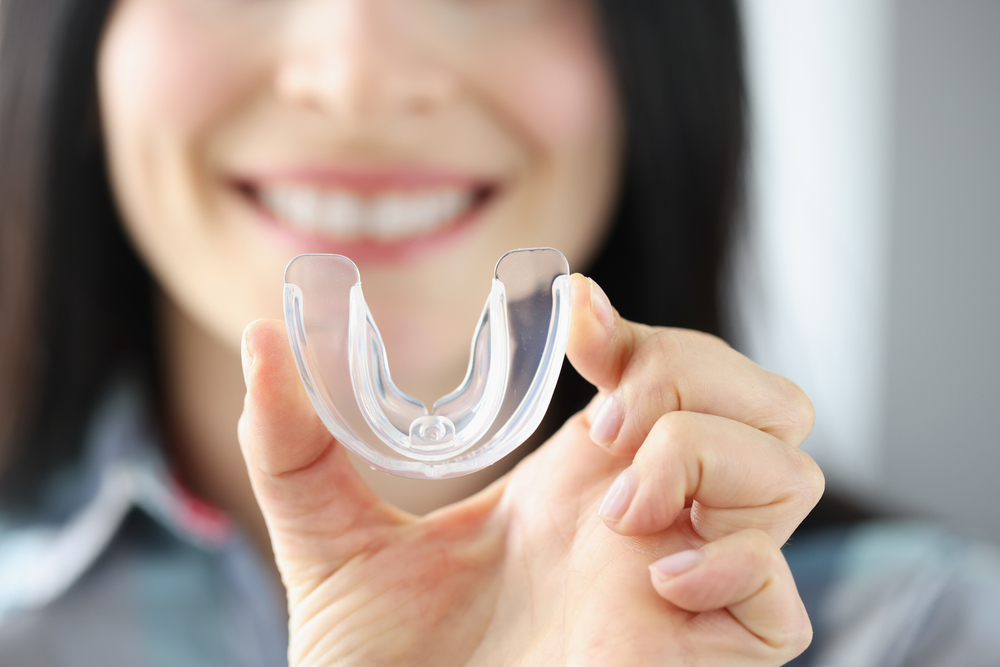 Sports are a great way to learn about teamwork, stay in shape, and spend time with family members and friends. At the same time, you need to protect yourself against injuries, and this includes wearing a mouthguard. At South Dayton Smiles, it would be our pleasure to customize an athletic mouth guard to fit your needs.
A mouthguard can protect your gum tissue, jaw, and teeth from severe injury during contact sports. If you do not wear a mouthguard while playing contact sports, you risk damaging your teeth, gums, and jaw. Let us customize a mouthguard to meet your needs.
What Traumatic Injuries Can a Mouthguard Prevent?
If you wear a mouthguard, you can reduce your chances of suffering a number of serious injuries. Some of the most common injuries that a mouthguard can prevent include:
A tooth avulsion, which takes place when a tooth gets knocked out

Tooth displacement, which can move the tooth backward or forward

Injury to the temporomandibular joint

Chipped or cracked teeth

Broken Dental brackets and wires

Severe lacerations of the gum tissue and cheeks

Certain types of concussions
If you wear a mouthguard, you can save a lot of time, money, and stress by preventing these injuries from happening.
Why Do I Need a Custom Mouthguard?
You have probably seen mouthguards sold on the shelves of stores, so why do you need to go with a custom mouthguard? A custom mouthguard can keep yourself or your athlete more comfortable by avoiding serious injuries.
Some of the most common complaints people have about mouthguards include:
It is too uncomfortable to wear regularly

It is too loose and keeps falling out of my mouth

A mouthguard makes it difficult to talk to teammates and coaches

A mouthguard is too bulky and inconvenient to carry around

Mouthguards taste bad

I lose my mouth guard because it falls out when I play

My mouth guard looks like my teammate's mouth guard, and I don't want to pick theirs up by mistake
If these issues sound familiar, you need to count on the team from South Dayton Smiles. We can customize a mouthguard to meet your needs, helping you avoid the problems above.
How Do I Get a Custom Mouthguard Made?
If you want a custom mouthguard, the process is straightforward and requires two visits to finish. During the first visit, we will take an impression of your teeth. We will use this to customize your mouthguard to match the exact shape of your teeth. We can even customize your mouthguard to match the colors of your school or team.
Then, during the second visit, we will invite you back to try on your finished mouthguard. We will make sure it fits well. If you have any concerns about the fit, we can adjust it for you.
Custom Sports Mouthguards in Miamisburg
You need to ensure your mouth is properly protected with an athletic mouthguard. If you would like to have a mouth guard made for your sports endeavors, trust South Dayton Smiles to help you. Make an appointment by calling (937) 433-5133.
Request an Appointment Today
At South Dayton Smiles, our dentists are always happy to serve you in south Dayton.
Testimonials
What Our Clients​​ Say about Us
" Dr Botti has always been pleasant to work with, explaining details of the procedure as I had a crown replaced. "
– Mike G
" I LOVE Dr Botti and the staff at South Dayton Smiles. Michelle is my hygienist and I can't wait for my appointments to have my teeth cleaned. "
– Debby M
" Everyone knows my name, knows my family, very personal touch. Everyone is great with my children. They treat us all like family. "
– Steve M