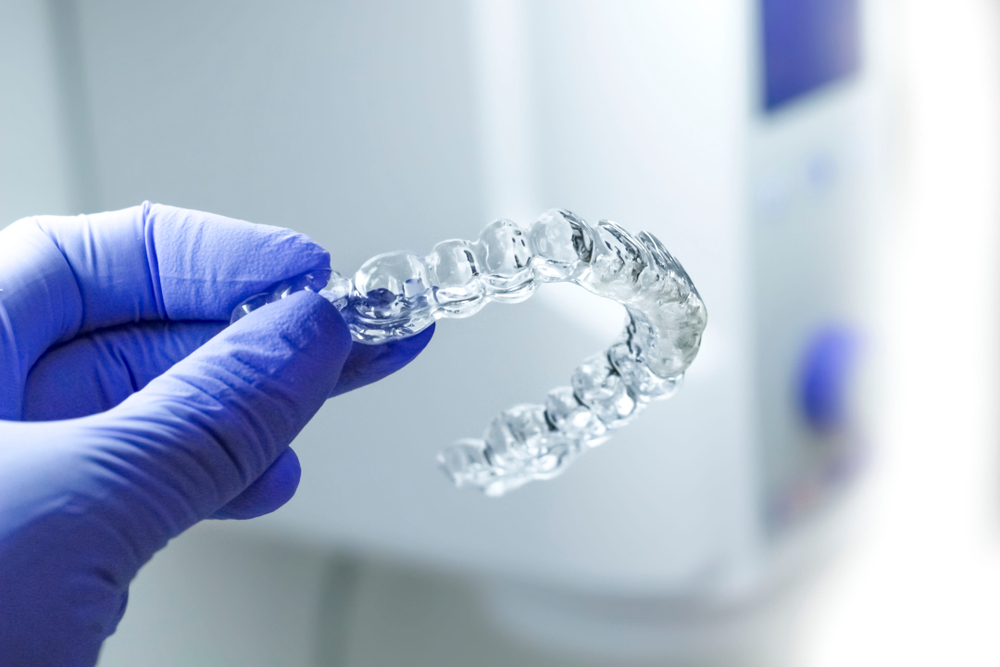 You need to do everything you can to take care of your teeth, and there might be situations where nightguards are right for you. At South Dayton Smiles, we can address a wide variety of health concerns. You might be someone who grinds your teeth regularly, or you might need help with obstructive sleep apnea. Regardless, a nightguard could be helpful.
What Is a Nightguard?
A night guard is similar to a retainer. It can be made from plastic, and it could be either hard or soft. A night guard is designed to protect the biting surfaces of your teeth when you sleep at night, and the guards can be worn on either the top or bottom set of teeth.
Every patient has different teeth, so nightguards can be customized to meet your needs. Typically, our dentist will take a mold of your mouth to ensure the nightguard matches your teeth perfectly.
You may also hear a nightguard called in occlusal guard, a bite splint, a nocturnal bite plate, or a dental guard. All of these terms refer to the same device.
Why Do I Need a Nightguard?
A dentist might recommend a nightguard for you to prevent teeth damage. If you have a history of grinding your teeth at night, you may have developed enamel damage. The extreme power of your bite could cause the enamel to erode, leading to oral decay. A nightguard can protect you against damage from teeth grinding, also known as bruxism.
A nightguard might also be recommended to help you prevent the development of temporomandibular joint (TMJ) disorder. This disorder can make it difficult for you to chew. If you clench your teeth in your sleep, you apply undue pressure to the joint, which can lead to misalignment. This could cause dysfunction in your TMJ. A nightguard can help you protect this joint and allow you to chew easily.
Finally, you can also use a nightguard to prevent chronic headaches from developing. If you place a lot of stress on the muscles in your jaw, face, and scalp, they could tighten up. You might feel like your head is trapped in a vice, leading to a headache. You can prevent this issue from developing by wearing a nightguard.
How Do I Choose a Nightguard?
If you are looking for a nightguard, there are several factors to consider. First, you need to make sure the nightguard feels comfortable in your mouth. If it is not comfortable, you might not wear it, which would defeat the purpose.
Next, you need to consider whether you want an upper or a lower nightguard. Lower guards can be more beneficial for someone with sleep apnea and airway issues, so make sure you try it out before making a final decision. Our dentist can help you determine which kind of nightguard will work best for you.
Customized Nightguards in Miamisburg
If you are looking for a nightguard to help you protect your teeth, we can help you. At South Dayton Smiles, it would be our pleasure to help you customize a nightguard to meet your needs. Reach out to us to schedule an appointment at (937) 433-5133.
Request an Appointment Today
At South Dayton Smiles, our dentists are always happy to serve you in south Dayton.
Testimonials
What Our Clients​​ Say about Us
" Dr Botti has always been pleasant to work with, explaining details of the procedure as I had a crown replaced. "
– Mike G
" I LOVE Dr Botti and the staff at South Dayton Smiles. Michelle is my hygienist and I can't wait for my appointments to have my teeth cleaned. "
– Debby M
" Everyone knows my name, knows my family, very personal touch. Everyone is great with my children. They treat us all like family. "
– Steve M