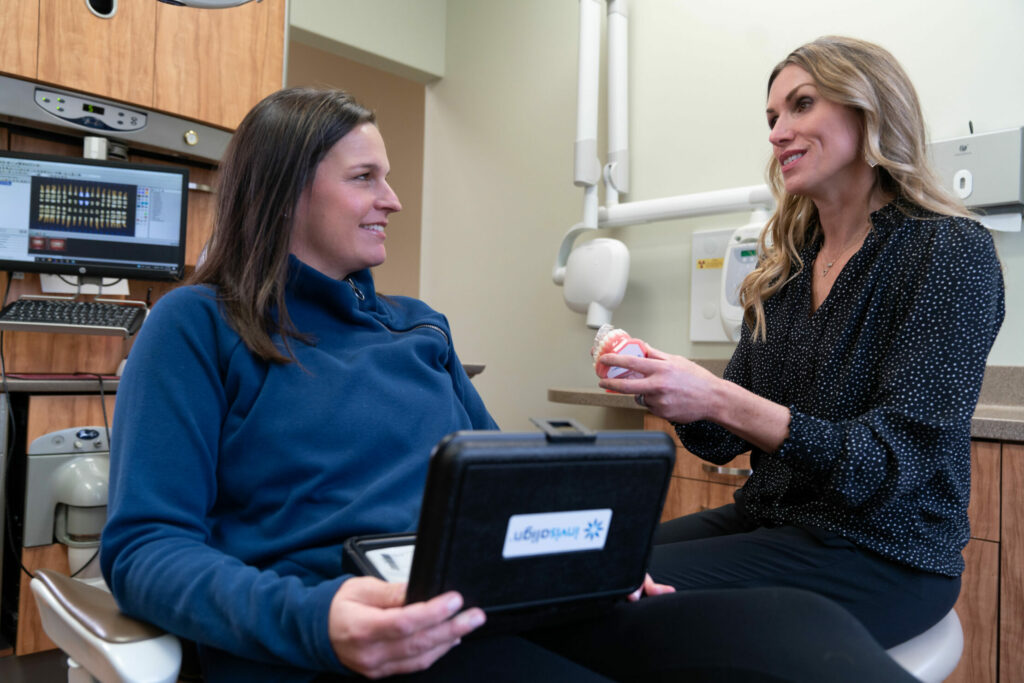 If you have a crooked or uneven smile, this is more than just an aesthetic issue. It could be an alignment problem that can lead to other health concerns. Even though there are plenty of situations where traditional metal braces might be helpful, we want to make sure you know about all the available options.
You may benefit from Invisalign treatment. At South Dayton Smiles, we are here to talk with you about the benefits and drawbacks of each treatment option, allowing you to make a decision. Learn more about Invisalign below, and restore your beautiful smile with these clear aligners.
How Do Invisalign Trays Work?
Traditional braces use wires and metal brackets to move your teeth into the right location. Instead of using wires and brackets, Invisalign trays will move your teeth using comfortable, clear aligners.
These aligners are made from plastic, and you will wear them for two weeks at a time. After the two weeks are done, you will discard the first aligner and move to the next one. You will go through a handful of them during the course of your treatment plan.
When you are done, your teeth should be in the right locations, and you should like the smile you see in the mirror.
Why Should I Use Clear Aligners?
There are a few reasons you might want to use clear aligners to help you straighten your teeth. First, many people like that these aligners are almost invisible to the naked eye. When you have them in your mouth, people will have a difficult time seeing them.
Second, clear aligners are removed when you eat and drink. This means that you do not have to worry about altering your diet as you would with braces. It is also much easier for you to floss your teeth because you don't have to worry about getting underneath the brackets and wires.
Finally, depending on your exact situation, clear aligners could be a faster treatment option. You might be able to restore your smile more quickly than you would with braces.
What Is the Treatment Process Like?
When you come to our office, we will take a series of photos of your mouth. We may take a few digital X-rays if we need to see underneath the surface.
Once we have collected all of your information, we will use your data to craft a set of clear aligners that have been customized for your exact situation. We will review everything with you, let you know how many aligners you will need, and explain how to take care of them.
Finally, even though you do not need to come to the office as often as you would with braces, we will still keep in touch with you to ensure your treatment is progressing as expected.
Beautiful Smiles With Invisalign in Miamisburg
If you would like to figure out if you are a candidate for Invisalign, we would be happy to assist you. We customize all of our treatment plans to meet the needs of our patients, and we can talk with you about your candidacy for Invisalign trays. We are always here to help you.
If you would like to know more about Invisalign treatment, contact our office at (937) 433-5133.
Request an Appointment Today
At South Dayton Smiles, our dentists are always happy to serve you in south Dayton.
Testimonials
What Our Clients​​ Say about Us
" Dr Botti has always been pleasant to work with, explaining details of the procedure as I had a crown replaced. "
– Mike G
" I LOVE Dr Botti and the staff at South Dayton Smiles. Michelle is my hygienist and I can't wait for my appointments to have my teeth cleaned. "
– Debby M
" Everyone knows my name, knows my family, very personal touch. Everyone is great with my children. They treat us all like family. "
– Steve M