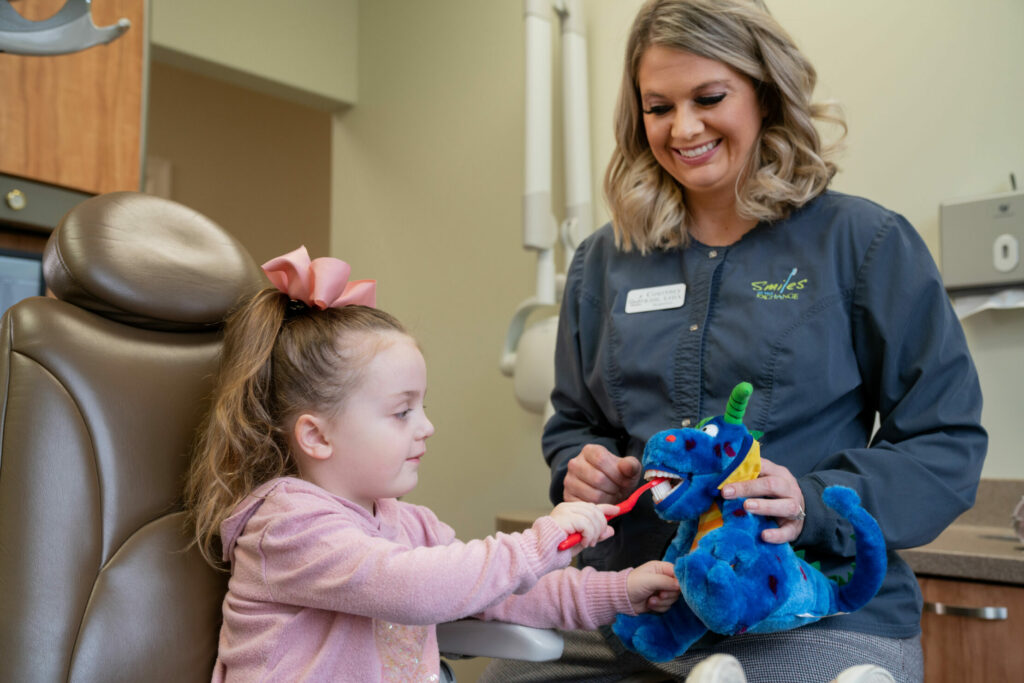 At South Dayton Smiles, our goal is to help you maintain a healthy smile. To do that, you should come to our office every six months for a regular visit. During this visit, we will thoroughly clean your mouth as we inspect every corner, looking for any signs of possible dental issues.
If we find any areas of concern such as cavities and gum disease, we can treat them quickly. Routine cleanings are a critical part of dental care, and it would be our pleasure to help you have the best oral health possible.
What Happens During a Dental Exam?
First, a friendly member of our front desk team will greet you. Then, we will bring you back for a thorough dental cleaning with a trained dental hygienist.
The hygienist will use the latest tools and techniques to remove any plaque and tartar that may have built up on the surfaces of your teeth or around your gums. This will reduce your chances of developing periodontal gum disease.
The hygienist will also carefully clean and floss your teeth for you. During this part of the visit, the hygienist will look for any signs of gum disease, cavities, or cancer. If he or she finds anything, the dentist will talk about it with you.
Once the hygienist is done with your cleaning, the dentist will start the examination. The dentist will examine your teeth, throat, gums, facial muscles, and jaw. There are some situations where we might recommend oral X-rays. These are important for detecting issues that might lurk underneath the surface.
Finally, the dentist will discuss the results with you. If there are any problems, the dentist will explain the diagnosis and treatment plan.
What Does the Dentist Look For?
There are several important issues the dentist will look for. Of course, the dentist will keep an eye out for normal dental illnesses, but certain chronic medical conditions, such as diabetes and acid reflux, could manifest in the mouth. The faster these issues are caught, the sooner they can be treated, improving your prognosis.
During the exam, the dentist will:
Check your face, jaw, teeth, and mouth

Examine the gum line closely for any sign of periodontal disease

Take a look at the alignment of your teeth for potential orthodontic Issues

Look for any signs of oral cancer

Take X-ray images when they are necessary
How Do I Take Care of My Teeth at Home?
Of course, you should make sure you take care of your teeth at home as well. You need to brush your teeth at least twice per day using toothpaste that has fluoride and a toothbrush with soft bristles. Try not to brush too hard, but make sure you have a regular routine. Make sure you floss your teeth every day as well.
To avoid teeth staining, try to limit your consumption of tea, coffee, wine, and other drinks that have dark colors. You should also avoid smoking or consuming tobacco products, as they can stay on your teeth and increase your risk of oral cancer.
Healthy Smiles With Our Caring Miamisburg Dental Team
If you have questions about taking care of your teeth or if it is time for your next appointment, call South Dayton Smiles at (937) 433-5133. It would be our honor to help you reach optimum oral health.
Request an Appointment Today
At South Dayton Smiles, our dentists are always happy to serve you in south Dayton.
Testimonials
What Our Clients​​ Say about Us
" Dr Botti has always been pleasant to work with, explaining details of the procedure as I had a crown replaced. "
– Mike G
" I LOVE Dr Botti and the staff at South Dayton Smiles. Michelle is my hygienist and I can't wait for my appointments to have my teeth cleaned. "
– Debby M
" Everyone knows my name, knows my family, very personal touch. Everyone is great with my children. They treat us all like family. "
– Steve M