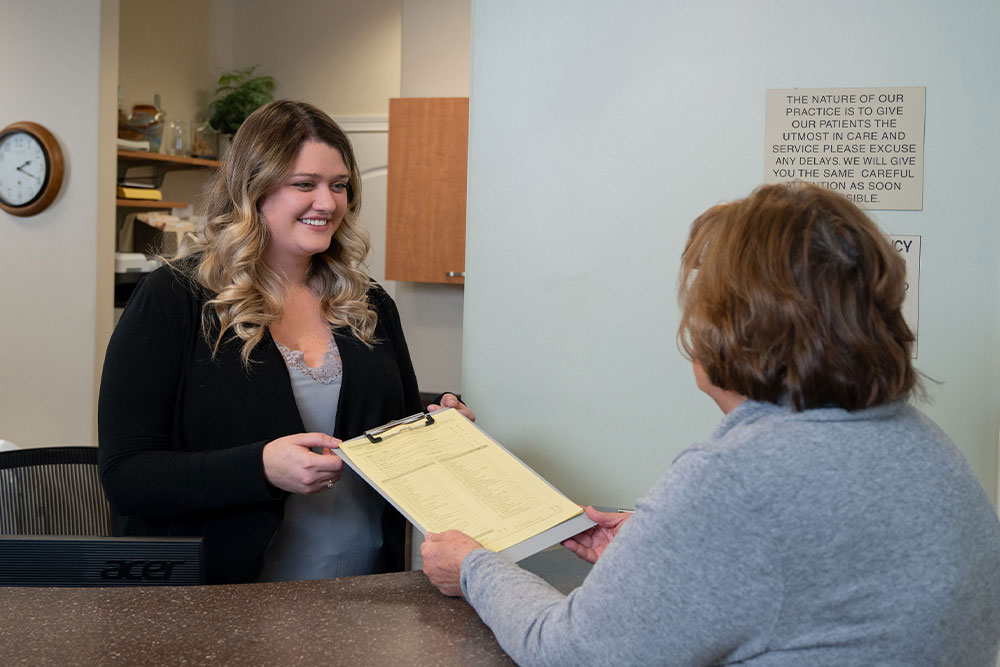 Welcome to South Dayton Smiles! We are happy you have chosen us to help you with your dental care. We can take care of both adults and children, so we are here to help the entire family. During your dental visit, we will learn more about you, your oral health, and the goals you have set for yourself and your family.
When you come for your appointment, we will talk about your concerns, look for any signs of underlying health problems, and talk about what we can do to keep you safe, happy, and healthy.
What Happens During the First Visit?
When you arrive for your first visit, you will receive an in-depth consultation and dental exam. We will talk about your dental health and your overall health. This will also be an opportunity for you to discuss any concerns you might have to figure out if you are at risk of developing any specific health issues.
After this, we will conduct a complete oral exam. We will take a look at your teeth, gums, and mouth. We will check the alignment of your teeth, look for signs of oral decay, and identify any lumps or bumps that could indicate a more serious problem.
Depending on your dental history and what we find, we may recommend digital X-rays. This is important for helping us see what is underneath the surface. We want to examine the structure of your roots, jaw, and subcutaneous tissues. Once we are done with the exam, we will talk about our findings with you.
Do I Need To Bring Anything?
When you come for your first visit, you will fill out a form for your medical history and your dental history. We will also ask about your current medications, allergies, and any past surgical procedures you might have had.
Our goal is to get a complete picture of your general and oral health. This is important for helping us understand the best way to serve you. Keep in mind that we follow all HIPAA guidelines to make sure your personal health information is kept private.
What Are Your Financial Policies?
Regardless of whether you are a new patient or a returning patient, we strive to make our care as affordable as possible. We accept the vast majority of dental insurance plans and major credit cards. We will also work with your insurance provider on your behalf to make sure you maximize your benefit. We will even file your insurance paperwork for you, allowing you to focus on your dental health.
If you do not have dental insurance, or if you think your treatment may not be covered by your dental insurance policy, please talk to us about our Dental Membership Plan and financing options. We believe that everyone deserves access to affordable dental care, and we will work with you to make your visit as affordable as possible.
Make Your First Appointment Today!
We appreciate you allowing us to serve you. At South Dayton Smiles, we always put the needs of our patients first, and we would be happy to do the same for you.
If you are ready to schedule your first visit with us, contact us today at (937) 433-5133. Regardless of how long it has been since your last visit to the dentist, we are here to help you.
Request an Appointment Today
At South Dayton Smiles, our dentists are always happy to serve you in south Dayton.
Testimonials
What Our Clients​​ Say about Us
" Dr Botti has always been pleasant to work with, explaining details of the procedure as I had a crown replaced. "
– Mike G
" I LOVE Dr Botti and the staff at South Dayton Smiles. Michelle is my hygienist and I can't wait for my appointments to have my teeth cleaned. "
– Debby M
" Everyone knows my name, knows my family, very personal touch. Everyone is great with my children. They treat us all like family. "
– Steve M