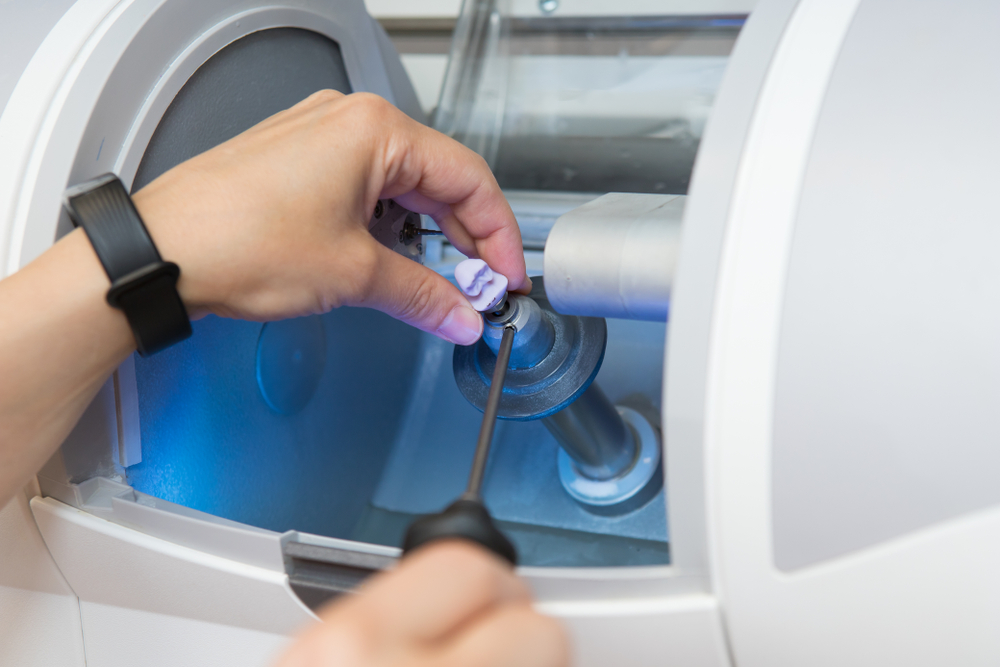 Dental technology has come a long way, and one of the biggest developments during the past few years is called CEREC. CEREC stands for Chairside Economical Restoration of Esthetic Ceramic. We can use this method to create dental restorations in our office to repair damage stemming from a traumatic accident, an injury, and oral tooth decay.
South Dayton Smiles has special equipment that allows us to design and create restorations with the help of advanced computer technology. We combine this technique with our CAD and CAM capabilities to provide you with the best service possible.
How Can We Use CEREC?
We have expanded our CEREC services, and we can roll them into a variety of processes. Some of the many ways we can use CEREC include:
Dental crowns

Inlays and onlays

Fixed dental bridges

Veneers

Dental Implants

Partial and full dentures

With various orthodontic appliances
Depending on the exact dental treatment you require, we may use CEREC to help you restore damaged teeth.
How Does CEREC Work?
In general, there are three steps involved in the CEREC process:
First, we will numb and prepare your tooth. We will scan the damaged area or take an impression of your mouth to make sure we provide you with the best product to improve your oral health.

After this, we will use a special software program to design a model of your specific dental restoration. We will customize it to match the exact shape of your teeth and mouth.

Finally, we will send these specifications to our advanced equipment and make the restoration with a tremendous degree of accuracy. Once the restoration is done, we will place it in your mouth, make any adjustments, and bond it to your tooth.
This is an efficient process that we can use to save time and improve accuracy as we improve your oral health.
Why Use CEREC?
There are a few reasons we use CEREC to care for your oral health. Some of the most common reasons include:
We can shorten the time needed to create dental restorations, sometimes handling everything in a single visit.

Because we use some of the latest technology, we can dramatically improve the accuracy of the treatment methods we use to improve your health.

Many of the restorations we use are also more permanent, meaning that you do not need to return for future visits.
CEREC CROWNS in Miamisburg
When you work with us, we will customize your treatment options to meet your needs. At South Dayton Smiles, our team can help you decide if CEREC will meet your oral health goals.
If you would like to make an appointment, please contact us at (937) 433-5133.
Request an Appointment Today
At South Dayton Smiles, our dentists are always happy to serve you in south Dayton.
Testimonials
What Our Clients​​ Say about Us
" Dr Botti has always been pleasant to work with, explaining details of the procedure as I had a crown replaced. "
– Mike G
" I LOVE Dr Botti and the staff at South Dayton Smiles. Michelle is my hygienist and I can't wait for my appointments to have my teeth cleaned. "
– Debby M
" Everyone knows my name, knows my family, very personal touch. Everyone is great with my children. They treat us all like family. "
– Steve M