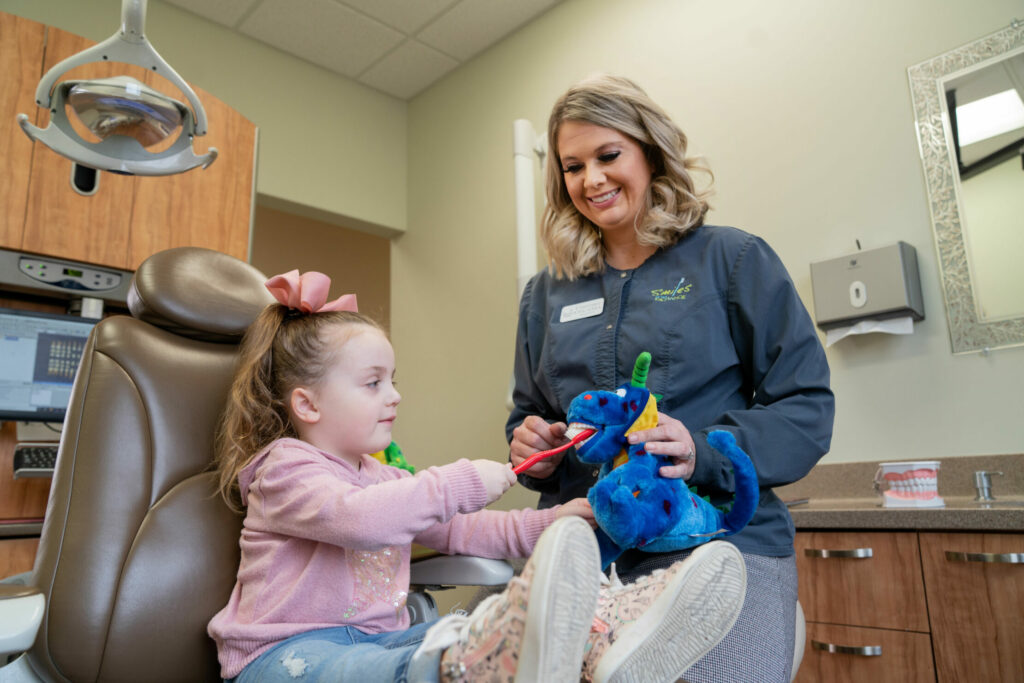 It is important for you to keep your teeth healthy, which is why you know to brush your teeth twice a day and floss every day. However, even if you do everything right at home, dental issues like injury or illness can affect your oral health. With the help of our dental professionals, we can reduce your chances of experiencing these issues!
At South Dayton Smiles, we use the latest preventive dentistry techniques and treatments to help you keep your mouth healthy. We believe it is better to prevent cavities and gum disease from developing in the first place, so trust us to help you!
What Is Preventive Dentistry?
The main goal of preventive dentistry is to prevent you from developing oral health concerns, such as tooth decay and traumatic injuries. We have a wide variety of treatments to take care of your oral health.
Some of our treatment options include:
Regular dental exams

Professional cleaning from a dental hygienist

Tooth extractions

Comprehensive fluoride treatments

Dental sealants
Our goal is to use a simple, straightforward, and cost-effective process to prevent oral health concerns from developing. If you invest in preventive care, you can save time and stress by avoiding future dental issues.
What Is a Dental Exam?
At South Dayton Smiles, our main goal is to prevent serious dental concerns from developing. During an exam, a dentist from our team will closely examine your teeth, gums, tongue, and facial muscles, looking for any signs of oral health issues.
From time to time, we may also recommend oral X-rays. These are important for identifying potential concerns that may work underneath the surface. We also believe it is critical to detect oral cancer as quickly as possible. We will look for signs of oral cancer during routine screening.
The sooner we catch these issues, the faster we can treat them. This could improve your prognosis and help you save money.
Why Are Dental Sealants and Fluoride Used?
Dental sealants and fluoride treatments are important because they can strengthen your teeth and prevent cavities from developing.
A dental sealant is a thin layer of resin. Sealants are painted over the surface of your teeth, covering crevices that are hard to clean and can trap bacteria. By sealing these cracks, we prevent bacteria from infiltrating your teeth, thus preventing cavities.
Fluoride is a mineral that occurs naturally in the environment and can strengthen your enamel and prevent cavities from developing. It is frequently included in dental products, including mouthwash and toothpaste. Fluoride might even be added to your drinking water.
We use these treatments with all of our patients to prevent oral health concerns from developing. They are the backbone of our preventive dental care, and it would be our pleasure to help you as well.
Preventative Oral Health Solutions with South Dayton Smiles
Our goal is to help you take care of your teeth. Contact our team today at (937) 433-5133 to make an appointment.
Request an Appointment Today
At South Dayton Smiles, our dentists are always happy to serve you in south Dayton.
Testimonials
What Our Clients​​ Say about Us
" Dr Botti has always been pleasant to work with, explaining details of the procedure as I had a crown replaced. "
– Mike G
" I LOVE Dr Botti and the staff at South Dayton Smiles. Michelle is my hygienist and I can't wait for my appointments to have my teeth cleaned. "
– Debby M
" Everyone knows my name, knows my family, very personal touch. Everyone is great with my children. They treat us all like family. "
– Steve M