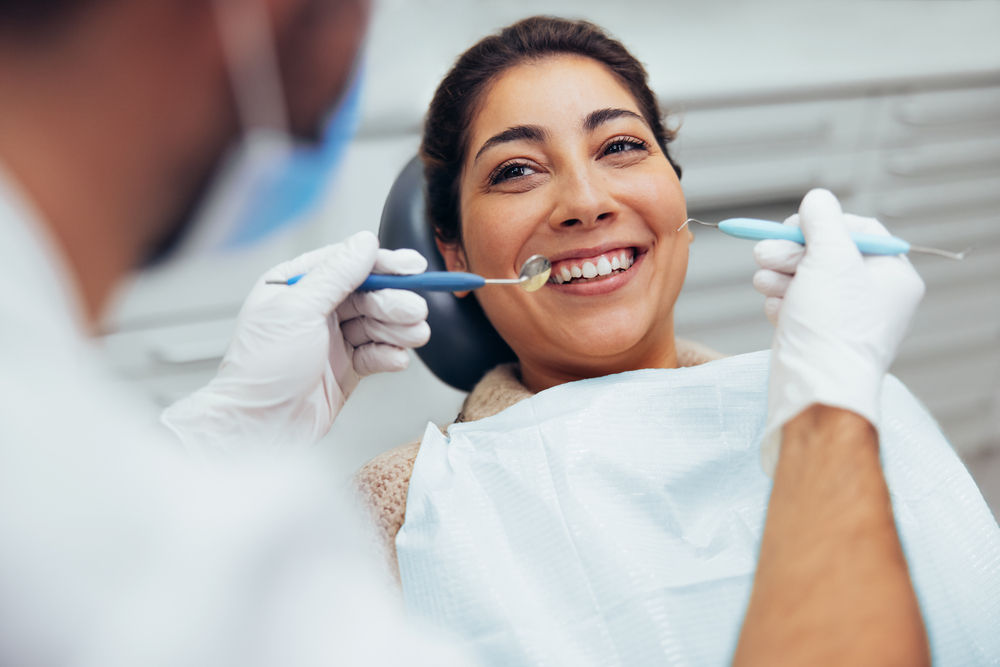 When you visit us for your regular cleaning, one of the most important services we provide is an oral cancer screening. Unfortunately, oral cancer impacts many people every year. If we can catch oral cancer early, we can start the treatment process more quickly, which may improve your prognosis.
You should not be nervous when you come to our office for an oral cancer screening, but it is a crucial service. An oral cancer screening only takes a few minutes to complete, and it can save a lot of lives.
At South Dayton Smiles, we recommend regular oral cancer screenings with one of our dentists.
What Are the Risk Factors for Oral Cancer?
A few risk factors could make it more likely for someone to develop oral cancer. They include:
Someone who has a family history of cancer may be more likely to develop oral cancer themselves.

Using tobacco products, including cigarettes and chewing tobacco, increases the chance of someone developing oral cancer.

People who are older or more likely to develop oral cancer them people who are younger.
Regardless of these risk factors, everyone should have an oral cancer screening regularly.
What Happens During an Oral Cancer Screening?
There are two separate components to your oral cancer screening. First, the dentist will check your mouth for any signs of asymmetry. White patches, lumps, bumps, and swelling could be early signs of oral cancer.
We will need to remove oral appliances from your mouth, such as dentures and retainers, to ensure we do not miss anything. Then, the dentist will use a small light and a mirror to look at all surfaces of your mouth for any irregularities.
Then, the dentist will complete a physical exam, touching the outside and inside of your jaw and mouth. The dentist may also feel your nose and jaw to look for anything out of the ordinary. If the dentist finds any masses or nodules, they will need to be examined further.
Finally, the dentist may use advanced technological tools as well. Imaging studies, including X-rays, can give the dentist a look at tissues underneath the surface. This is important for making sure that nothing is overlooked.
What Are the Benefits of Oral Cancer Screening?
There are a few benefits of regular oral cancer screenings. Some of the top benefits include:
This is a quick exam that only takes a few minutes.

It has the potential to catch oral cancer that may not yet be showing any signs or symptoms.

When oral cancer is caught sooner, it can dramatically improve someone's prognosis.
Oral Cancer Screening and Early Detection With Our Caring Team
At South Dayton Smiles, we always prioritize our patients' well-being, which is why we recommend an oral cancer screening during every visit. Contact us today to schedule an appointment at (937) 433-5133. Our goal is to keep you happy and healthy.
Request an Appointment Today
At South Dayton Smiles, our dentists are always happy to serve you in south Dayton.
Testimonials
What Our Clients​​ Say about Us
" Dr Botti has always been pleasant to work with, explaining details of the procedure as I had a crown replaced. "
– Mike G
" I LOVE Dr Botti and the staff at South Dayton Smiles. Michelle is my hygienist and I can't wait for my appointments to have my teeth cleaned. "
– Debby M
" Everyone knows my name, knows my family, very personal touch. Everyone is great with my children. They treat us all like family. "
– Steve M