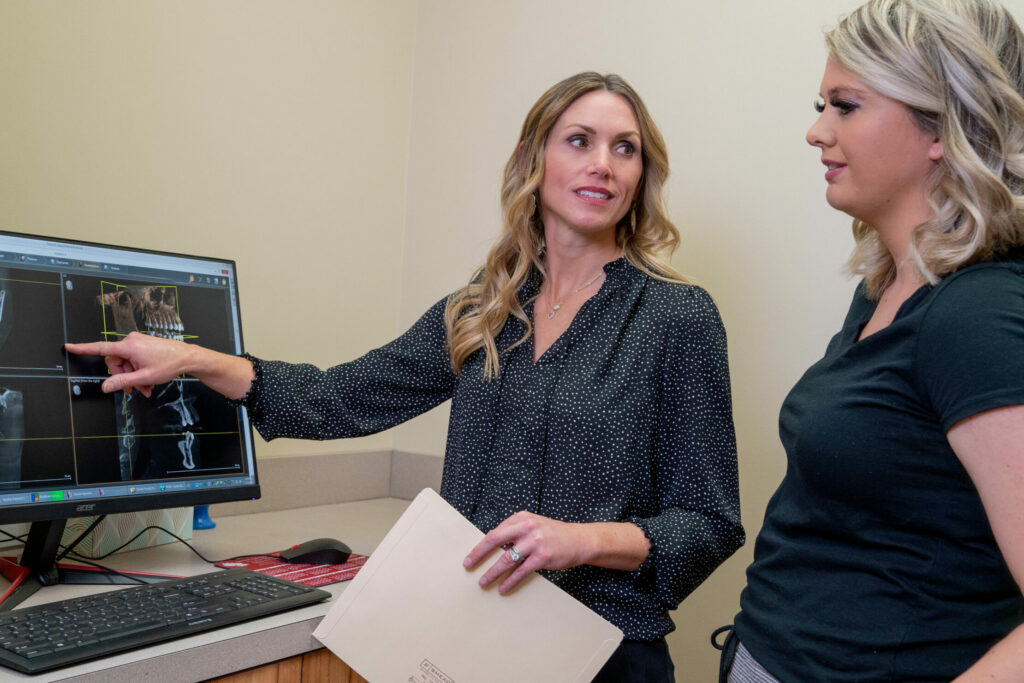 Digital X-rays, commonly called radiographs, are images of your teeth that we may take to evaluate your oral health. At South Dayton Smiles, many of our patients receive X-rays once per year. They allow us to look underneath the surface of the gums to make sure everything is healthy.
Anything hard or heavy, such as your teeth, will show up white on an X-ray. Then, anything light, such as air, will show up black. We use this information to help us interpret what we are seeing. Using X-rays to identify problems early on, we can prevent future problems from developing.
The Types of Dental X-Rays
The exact information we collect on a dental X-ray will vary depending on the type of X-ray we take. Some of the most common types of dental X-rays include:
Bitewing: We will ask you to bite on a small piece of paper or plastic. Then, we will take a look at the teeth above the gum line and the height of the bone between your teeth. This is important for helping us check between your teeth for cavities.

Occlusal: This type of X-ray is typically taken on developing children and helps us see how the teeth are lined up in the upper or lower jaw.

Panoramic: This is a two-dimensional X-ray that will show the entire mouth in one image. It helps us examine your soft tissue, your upper jaw, and your lower jaw.

Periapical: This type of x-ray allows us to see a tooth from the root to crown with its surrounding bone structure.
We will talk with you about which types of X-rays we might take to help us take better care of your teeth.
What Might You See on an X-Ray?
We use dental X-rays as part of preventative and acute care. For example, we frequently take X-rays in children to ensure their teeth are developing appropriately. Regardless of age, there are several problems that we might spot.
For example, we use X-rays to make sure there is enough space for children's teeth that are still developing. We can also use an X-ray to spot developing oral decay. As people get older, we will use X-rays to anticipate when wisdom teeth might emerge. That way, we might be able to respond earlier.
We can also use X-rays to identify decay underneath fillings. If you have prior cavities, they might be sealed with fillings, but cavities can still develop underneath the surface. We might not spot them without X-rays, so they are an important tool.
Comprehensive Oral Health Care in Miamisburg
Give us a call to schedule your next appointment at (937) 433-5133. We may recommend X-rays as a part of your appointment, as they are important for protecting your overall oral health.
Request an Appointment Today
At South Dayton Smiles, our dentists are always happy to serve you in south Dayton.
Testimonials
What Our Clients​​ Say about Us
" Dr Botti has always been pleasant to work with, explaining details of the procedure as I had a crown replaced. "
– Mike G
" I LOVE Dr Botti and the staff at South Dayton Smiles. Michelle is my hygienist and I can't wait for my appointments to have my teeth cleaned. "
– Debby M
" Everyone knows my name, knows my family, very personal touch. Everyone is great with my children. They treat us all like family. "
– Steve M