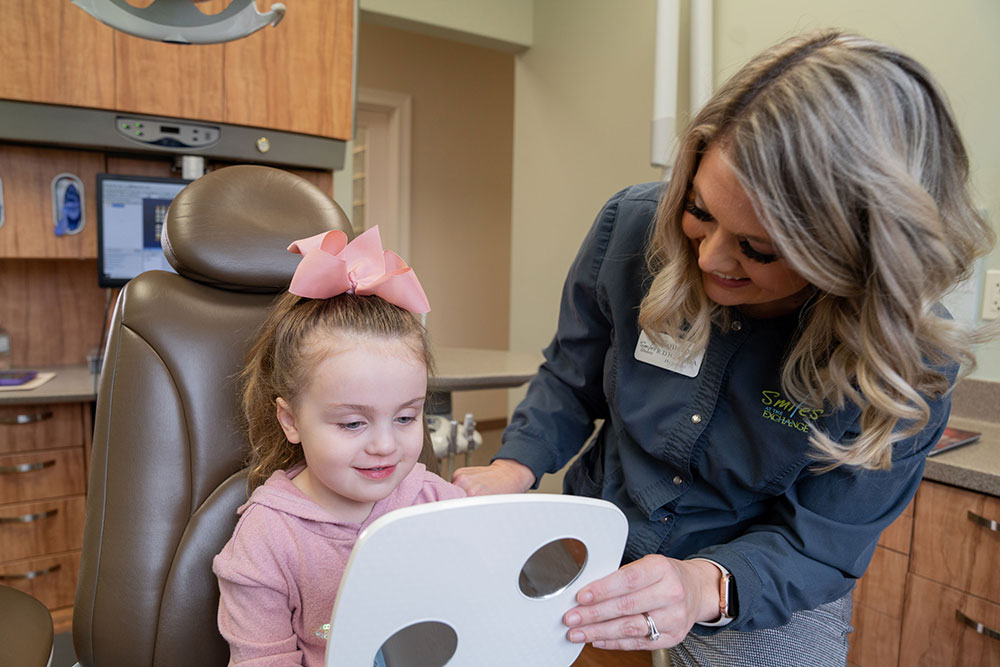 It is critical for you to teach your child good dental habits, including bringing your child to the dentist twice per year for regular cleaning. At South Dayton Smiles, we can help you keep your children's teeth healthy while also teaching good oral health habits that can last for the rest of their lives.
We understand that children are a bit nervous when they come to the dentist's office. We have created a stress-free, fun environment for patients of all ages. A friendly staff member from our team will always go the extra mile to ensure your child has an enjoyable experience during their appointment.
When Should I Schedule My Child's First Dental Appointment?
We recommend that you bring your child to the dentist when his or her first tooth erupts. If you notice that your baby is chewing on objects more frequently, this is a sign that a tooth might be coming in soon.
Typically, children get their first tooth around their first birthday. Therefore, you should schedule an appointment for your baby at around one year of age. This will allow us to make sure his or her teeth are coming in appropriately.
In addition, several issues could require additional attention during the visit. Some of the factors that might require a bit more care include:
Thumb sucking

Teeth that are coming in stained

Babies that sleep with a cup or bottle at night

Down Syndrome
If any of these statements describe your child, we will address them during the visit. That way, we can do everything we can to maximize your child's oral health.
What Happens During the First Dental Visit?
At South Dayton Smiles, we know that many children will have some anxiety when they arrive at the dentist's office. There are a lot of people they don't know, and the setting is unfamiliar. This can lead to confusion in young children.
To make sure your child is comfortable going to the dentist, it is important to get them used to dental visits as early as possible. If your child knows that he or she will go to the dentist twice per year, he or she will get more comfortable working with us.
Of course, we have also designed our office to be as comfortable for children as possible. We have a designated area for kids, and we have a lot of toys that can help them relax and take their minds off of the visit.
During the visit, we will move slowly and methodically. We will give your child an opportunity to communicate with us if he or she is scared or uncomfortable. Finally, we will review the findings with you and talk about what you should expect as your child grows and develops.
How Should I Take Care of My Child's Teeth?
You should follow a few steps to take care of your child's teeth. During the toddler years, you should wipe them then down routinely with a washcloth. Once all of the teeth have come in, you can start cleaning them with a soft-bristle toothbrush.
Until your child is able to spit, do not use a fluoride toothpaste. Once your child is able to spit, you can use toothpaste that has fluoride in it.
Compassionate Pediatric Dentistry in Miamisburg
It is normal to have questions about taking care of your child's teeth. At South Dayton Smiles, we are here to help you. Reach out to us to make an appointment for your child at (937) 433-5133.
Request an Appointment Today
At South Dayton Smiles, our dentists are always happy to serve you in south Dayton.
Testimonials
What Our Clients​​ Say about Us
" Dr Botti has always been pleasant to work with, explaining details of the procedure as I had a crown replaced. "
– Mike G
" I LOVE Dr Botti and the staff at South Dayton Smiles. Michelle is my hygienist and I can't wait for my appointments to have my teeth cleaned. "
– Debby M
" Everyone knows my name, knows my family, very personal touch. Everyone is great with my children. They treat us all like family. "
– Steve M