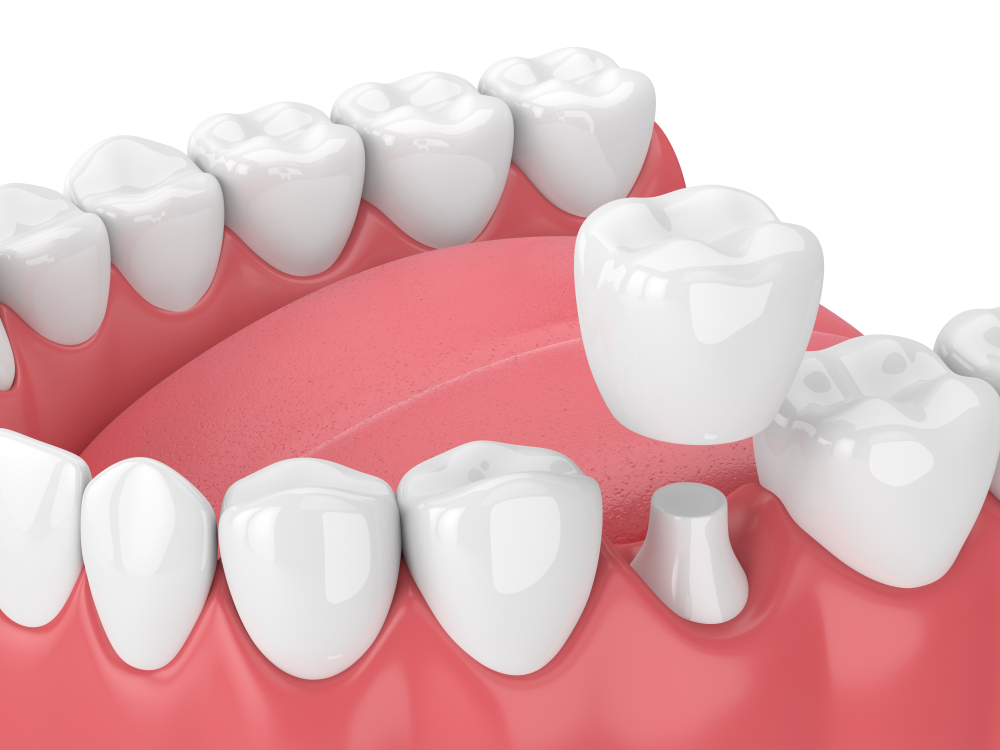 If you have damage to teeth, dental crowns could be an effective treatment option. We can use crowns to repair cracks, chips, and severe breaks. Furthermore, we can use dental bridges to cover dental implants or hold bridges in place.
We use state-of-the-art equipment to make dental crowns from a variety of materials. If you want to customize your smile, rely on the team from South Dayton Smiles to improve the health of your teeth with dental crowns.
What Is the Process for Placing a Dental Crown?
If we believe dental crowns are right for you, the first step is to take an X-ray to examine the root structure. That way, we can make sure a dental crown is an effective way to prepare the tooth.
Before we place the crown, we will numb the area. We will shape the tooth on the top and bottom sides to make room for the dental crown. If a large portion of the tooth is missing, we may use material to build the tooth back up. This makes it easier for the tooth to support the dental crown.
Once this is done, we will make an impression of the tooth using a digital scanner or some putty. We will take the results, send them to our dental laboratory, and customize a crown to meet your needs.
As this is happening, we will place a temporary crown on your tooth to make sure it is adequately protected. A few weeks later, we will call you back to our office to place the dental crown.
How To Take Care of a Dental Crown
It is important for you to take care of your dental crown to protect the rest of your teeth. Fortunately, dental crowns have been designed to withstand a tremendous amount of pressure.
To prevent your crown from cracking, try to avoid chewing on hard substances such as ice, olive pits, and popcorn. If you must do so, try to avoid the tooth with a crown on it.
Furthermore, if you believe you are prone to grinding your teeth at night, you should talk to us about getting a nightguard made. This is important for protecting not only the dental crown but also the other teeth.
In addition, you should care for the dental crown the same way you care for your other teeth. Try to brush your teeth twice a day and floss daily. Of course, you could also come to see us for your dental cleaning at least twice per year. If your dental crown becomes damaged, or if you have questions about it, contact us as quickly as possible. That way, we can take a look at your crown and figure out what is going on.
Quality Dental Crowns in Miamisburg
If you are ready to schedule your next dental visit, give us a call at (937) 433-5133. We would be happy to talk to you about dental crowns, and we will make sure your teeth are properly protected.
Request an Appointment Today
At South Dayton Smiles, our dentists are always happy to serve you in south Dayton.
Testimonials
What Our Clients​​ Say about Us
" Dr Botti has always been pleasant to work with, explaining details of the procedure as I had a crown replaced. "
– Mike G
" I LOVE Dr Botti and the staff at South Dayton Smiles. Michelle is my hygienist and I can't wait for my appointments to have my teeth cleaned. "
– Debby M
" Everyone knows my name, knows my family, very personal touch. Everyone is great with my children. They treat us all like family. "
– Steve M