Periodontal Disease Treatment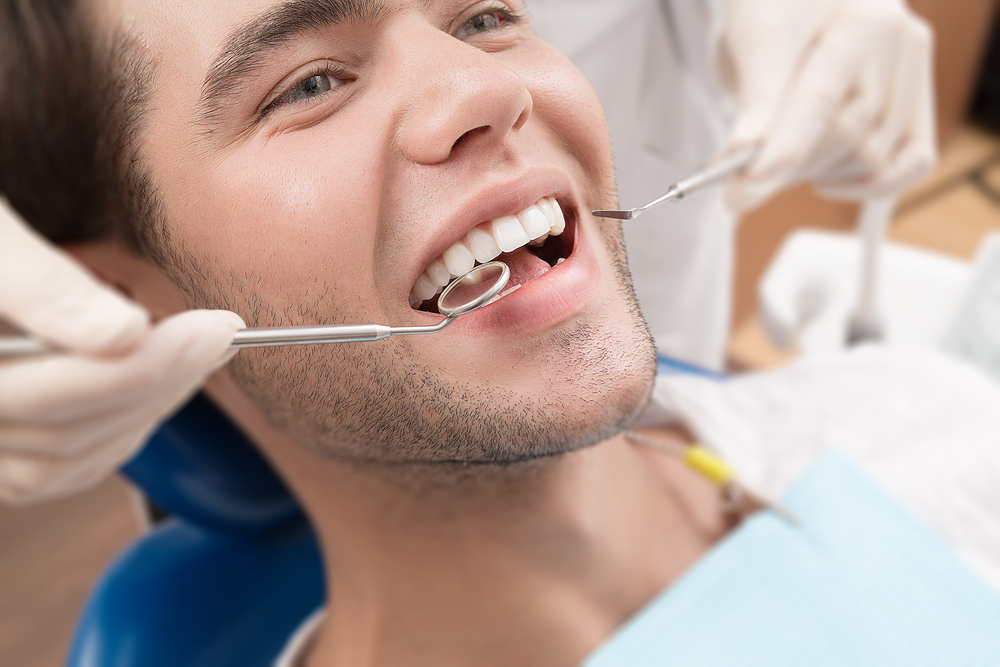 Periodontal disease, also known as gum disease, can be a significant problem for many people. If you are concerned about the health of your gums, it would be our pleasure to help you. At South Dayton Smiles, we have a variety of treatment tools and techniques that we can use to help you improve the health of your gums.
It is easy to overlook the health of the gum, but gum disease can spread to other parts of your mouth, which is why it is important to address this issue as quickly as possible. When you work with us, we can help you improve your oral health, keeping your entire mouth healthy.
What Is Periodontal Disease?
Periodontal disease occurs when an infection develops in the gums and soft tissues of the mouth. Eventually, these bacteria build up along the edge of the gum line, and plaque and tartar conform underneath the surface of the teeth.
As plaque and tartar continue to build, removing them using a toothbrush alone becomes difficult. Even regular brushing and flossing might not be enough.
As the bacteria continue to spread, they invade the gum line, causing your gums to separate from your teeth. This can lead to gum recession and irreparable bone loss, making your teeth vulnerable to falling out.
For this reason, you need to trust professionals from South Dayton Smiles to help you.
What Are the Types of Gum Disease?
Gum disease is usually divided into two categories. The first is called gingivitis, the early stage of gum disease. Gingivitis is relatively easy to treat because it is usually superficial.
If this condition is allowed to spread, it becomes periodontitis. Periodontitis is more widespread throughout the mouth, and it can be much more challenging to treat. Different treatment techniques are required to help someone who has been diagnosed with periodontitis.
Some of the signs that someone is suffering from gingivitis or periodontitis include:
The development of bad breath

Gums that are a bit swollen and tender

Gums that bleed easily when flossing or brushing

A change in bite pattern

Gums that appear to be separating from the rest of the teeth
It is critical to address this issue as quickly as possible.
What Are the Treatment Options?
At South Dayton Smiles, we always customize our treatment options to meet the needs of each patient. If someone has been diagnosed with gingivitis, we use a treatment called scaling. A dental hygienist will use a variety of dental tools to remove tartar and plaque from the gum line.
The dental hygienist will also get in between the teeth. That way, all bacteria are removed, and the infection can be eradicated. Gradually, the gums will start to heal, and the teeth will have the support they need.
If someone has been diagnosed with periodontitis, the infection has spread, and decay may have begun. This can lead to significant damage to the gums and root structure. In addition to scaling, root planing might be required to completely remove the infection. Advanced surgical tools are used to make sure all bacteria are removed.
Periodontal Disease Treatment with Our Caring Team
If you are concerned that your gums might be infected, we will help you get back on the road to good oral health. Call South Dayton Smiles in Miamisburg to schedule an appointment with a dentist from our office at (937) 433-5133.
Request an Appointment Today
At South Dayton Smiles, our dentists are always happy to serve you in south Dayton.
Testimonials
What Our Clients​​ Say about Us
" Dr Botti has always been pleasant to work with, explaining details of the procedure as I had a crown replaced. "
– Mike G
" I LOVE Dr Botti and the staff at South Dayton Smiles. Michelle is my hygienist and I can't wait for my appointments to have my teeth cleaned. "
– Debby M
" Everyone knows my name, knows my family, very personal touch. Everyone is great with my children. They treat us all like family. "
– Steve M