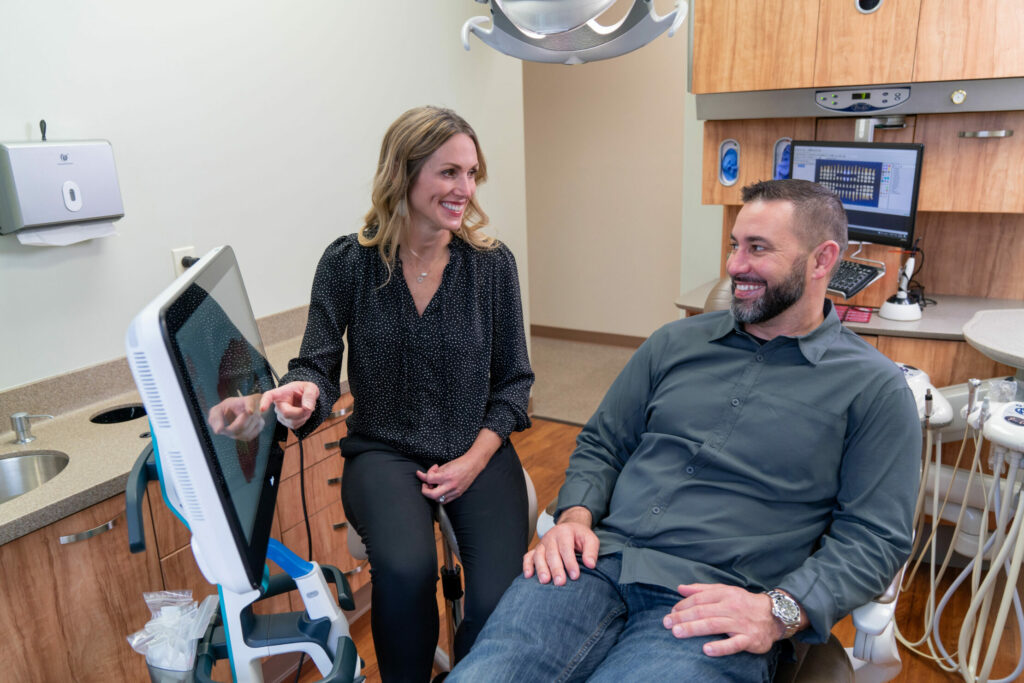 At South Dayton Smiles, our top priority is to take care of your oral health. There are situations where you may have severe infections impacting your gums and roots. If that is the case, we may recommend scaling and root planing. This is important for protecting your native tooth and avoiding a potential extraction.
Whenever a procedure involves the roots, we understand that patients get nervous. We will clearly explain the procedure to you, and we have a variety of sedation options to keep you comfortable.
How Do I Know if I Need Root Scaling and Planing?
Even though you brush and floss your teeth regularly, plaque can still build up on the surfaces of the teeth. If plaque builds up along the gumline, your soft tissue can become inflamed. If this happens, your gums can pull away from your teeth, providing extra space for bacteria to get in between your teeth and your gums, forming pockets.
If this disease progresses unchecked, it could lead to tooth loss. Some of the signs that you may need root scaling and planing include:
Your gums bleed easily when you brush and floss.

Your gums appear to be a bit discolored.

Your gums are swollen and inflamed.

You are very sensitive to hot and cold liquids.
If you experience these issues, we can assist you.
How Do Root Scaling and Planing Work?
This procedure is designed to deep clean your gums and associated root structure. Root scaling takes place when the dentist removes all the tartar and plaque around the gum line. The goal is to clean all the way down to the bottom of the pocket.
Then, root planing will begin. The dentist will use the latest tools and techniques to smooth out the entirety of the root structure to reattach the tooth to the gums. It is possible for this procedure to require more than one visit. A local anesthetic can be given to make you more comfortable.
What Is the Recovery Process Like?
Once the procedure is done, you may have discomfort for a day or two. Your teeth might also be sensitive to food and liquids for approximately a week. You might also notice that your gums bleed from time to time.
You may need to take over-the-counter medications to alleviate inflammation and swelling. If you need more powerful pain medications, you should talk to your dentist. Your dentist may also insert medication underneath the gum line to prevent infection from developing.
You will need a follow-up visit to make sure your gums are healing well. Once this procedure is done, your gums and roots should be healthy again.
Comprehensive Periodontal Disease Treatment in Miamisburg
If you are concerned about your gums or root structure, call South Dayton Smiles today to make an appointment at (937) 433-5133. We will do everything we can to keep you comfortable during this procedure and get you on the road to optimal oral health.
Request an Appointment Today
At South Dayton Smiles, our dentists are always happy to serve you in south Dayton.
Testimonials
What Our Clients​​ Say about Us
" Dr Botti has always been pleasant to work with, explaining details of the procedure as I had a crown replaced. "
– Mike G
" I LOVE Dr Botti and the staff at South Dayton Smiles. Michelle is my hygienist and I can't wait for my appointments to have my teeth cleaned. "
– Debby M
" Everyone knows my name, knows my family, very personal touch. Everyone is great with my children. They treat us all like family. "
– Steve M